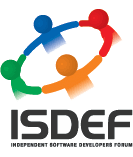 Main Page





02/01/2013 ISDEF Spring 2013
Independent Software Developers Forum announces ISDEF Spring 2013, the spring conference, will take place 18-22 April in Belgrad, Serbia. First time conference will take place outside CIS countries.
08/23/2012 ISDEF 2012, the 11th annual fall conference
ISDEF 2012, the 11th annual fall conference organized by the Independent Software Developers Forum (ISDEF), will first time take place October 04 - October 07 at the Milan hotel in Moscow.
11/09/2011 ISDEF Spring 2012 in St. Petersburg
The 8th Annual International Conference ISDEF Spring 2012 will be held in St. Petersburg.
11/09/2011 ISDEF Beer party in Prague
The meeting will take place on May 18, 2012 in Prague.
06/08/2011 Recharge: vacation for doers
August 11-22, California, USA


08/17/2011 Registration for the conference is still open. New sections added.
Registration for ISDEF'2011 at the conference website is still open.
06/09/2011 ISDEF'2011
See you in Vinogradovo (Moscow)
04/25/2011 The ISDEF Spring 2011 conference is over
The 7th ISDEF Spring conference gathered more than 100 participants from Russia, CIS countries, Europe and North America.
11/01/2010 ISDEF Spring 2011 to be held in Kiev


The ISDEF Board announces the international conference ISDEF Spring 2010 in Kiev / Ukraine.


10/04/2010 Ninth Annual Autumn Conference ISDEF'2010 Completed Its Work
The forum of independent software developers announced the end of the Ninth Annual Autumn Conference ISDEF'2010 that took place from September 30 through October 3, 2010 in Moscow.